Exponential schooling in Copenhagen Science City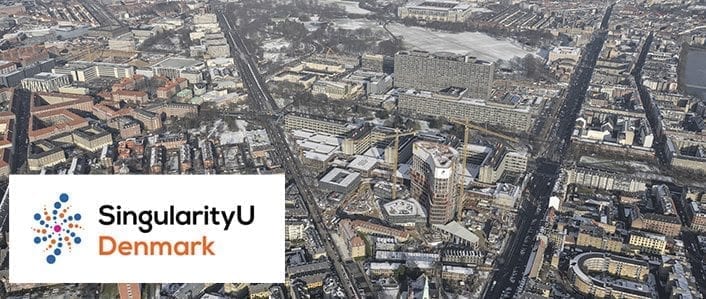 Researchers, students and entrepreneurs with a craving for innovation can expect fresh inspiration on how to use technological breakthroughs. Taking the name SingularityU Denmark, the acknowledged American think-tank and educational institution Singularity University is opening a 5.000 square meter innovation and training centre in the innovation district Copenhagen Science city.
High concentration of highly trained
The innovation district welcoming SingularityU Denmark has one of the highest concentrations in Europe of scientific talent. It sits between a residential area, a park and an urban development hotspot. Copenhagen Science City sees more than 30.000 researchers, students and staff going to and from the University of Copenhagen HEALTH and SCIENCE faculties, the University Hospital, Rigshospitalet, and Metropolitan University College. A range of local office hotels is home to more than 200 research heavy businesses.
"SingularityU Denmark is joining a fantastic innovation district. Their presence opens exciting new possibilities for cooperation. We also expect SingularityU Denmark to reinforce the ability of Copenhagen Science City to attract international businesses and talents to the area, "says Kristoffer Klebak, Head of Secretariat, Copenhagen Science City.
Education and innovation
SingularityU Denmark will teach both private and public sector managers, employees and entrepreneurs in utilizing so-called exponential technologies. They will also establish an innovative environment with test laboratories, biotech laboratories and a "maker space", where, among other things, it will be possible to develop prototypes.
Californian enthusiasm, Nordic insight
Exponential technologies, according to SingularityU Denmark, can create growth and jobs and contribute to solving challenges such as climate change, disease and poverty. Exponential technologies include artificial intelligence, 3D printing, robotics, biotechnology and nano-technology. Many researchers in Copenhagen Science City are at the forefront of developing these technologies. SingularityU Denmark is already in touch with several of these, hoping to see them join the international faculty being established by the organization.
About SingularityU Denmark
The founders Laila Pawlak and Kris Ostergaard are both faculty at Singularity University in Silicon Valley. The have founded various educational and accelerator programmes and DARE2mansion – one of Denmark's leading entrepreneurial houses. SingularityU Denmark is located just off Universitetsparken in Titanhus, Titan Gade 11, 2200 Copenhagen N. Read more about SingularityU Denmark here: www.SingularityUdenmark.org
For further information:
Kristoffer Klebak, Head of Secretariat, Copenhagen Science City.
Cell: 22 56 83 88
E-mail: kk@copenhagensciencecity.dk
www.copenhagensciencecity.dk