Global research elite drawn by innovation district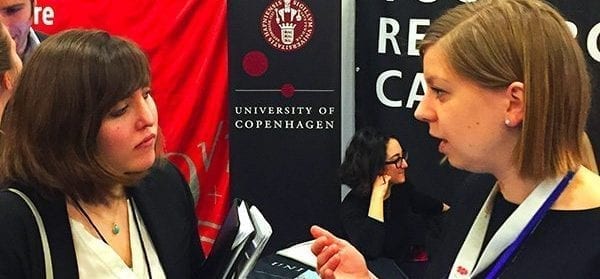 Competing for the best young researchers in the world is a tough game. For the Danish capital, Copenhagen, the winning hand seems to be an ability to promote academic and commercial job markets side by side. A high card is the innovation district Copenhagen Science City. By Jes Andersen.
High achievers drawn to collaboration opportunities
One of the most important global talent markets is the Massachusetts Institute of Technology European Career Fair (MIT ECF). Trine Buhl Monty scouts for talent for Copenhagen Science City-partner, The University of Copenhagen's Faculty of Science. At MIT this year, she met some 200 graduate students and early career researchers from elite universities on the US east coast.
When I tell these academic high achievers about the variety of possibilities for collaboration between academic institutions and commercial companies in Copenhagen's innovation districts, they just go wow. The combination of high-level academic institutions and 350 start-ups and scale-ups within an 800-metre radius in Copenhagen Science City is a strong selling point. The Danish system of inter-sectoral cooperation and funding opportunities that supports this, such as the Industrial Ph.D. and Postdoc scheme is another strongly attractive argument for moving to Denmark" says Trine Buhl Monty, Senior Executive – International Relations, University of Copenhagen, Faculty of Science.
Large-scale elite programme at SCIENCE
This autumn the University of Copenhagen's Faculty of Science is launching the TALENT Doctoral Fellowship Programme; a large-scale elite researcher programme for young international talent. The Faculty has brought home a grant of 6,4 million Euro from the EU's Marie Sklodowska-Curie COFUND programme to subsidise the new initiative. The objective is to attract top-tier student talent from the world's best universities and give them a chance to launch their careers either at the university, or with a Danish company after the awarding of their Ph.D. degrees.
Joint effort with industry and innovation districts
Danish companies report a shortage of highly specialised labour, particularly in the STEM fields (Science, Technology, Engineering, and Mathematics). To address the problem, the Faculty of Science will be working with the country's largest trade organisations and innovation districts to attract and retain international top talent.
Academics are fans of start-up jobs
In Copenhagen Science City's seven innovation hubs and science parks, the 350 innovative companies constitute a highly localised additional job-market. Monty reports, that these start-ups and scale-ups have a particular attraction to talent still on the academic career ladder.
Many academic talents like the idea of working in start-ups because these are still close to the academic environments. They are encouraged when I tell them about the opportunities to access research infrastructure at the university, the university hospital and the university college in the district" says Trine Buhl Monty.
Talent looking for jobs, employers looking for talent
Over the course of their three-year doctoral programmes, the TALENT programme expects to help the young researchers prepare for the Danish labour market upon graduation. The programme is in partnership with the Confederation of Danish Industry, the Danish Chamber of Commerce, the Danish Agriculture & Food Council, the Business Club for University of Copenhagen's Department of Computer Science and Copenhagen Science City. The goal is to offer easier access to attractive careers in Denmark and for Danish companies to benefit from access to a talent pool that would otherwise be costly and difficult to source. According to head of secretariat, Kristoffer klebak, this is highly desirable for the many start-ups and scale-ups in Copenhagen Science City.
Highly educated international talent is in high demand in the Innovation District of Copenhagen Science City which houses more than 350 innovative companies. The TALENT Doctoral Fellowship Programme will be a major boost to our innovation ecosystem": Kristoffer Klebak, Head of Secretariat, Copenhagen Science City.